Polycom®, Microsoft Lync and BT Join Forces to Unify Video, Voice, and Data Communications for 17,000 Staff at Belfast Health and Social Care Trust.

• 17,000 heath care staff supplied with communications technology to support the delivery of healthcare across Northern Ireland.
• Boosts health care staff productivity through access to video collaboration and online meetings from the desktop.
• Drives valuable operational cost savings over existing solutions and a superior user experience.
London – 25 Jul 2012 : Polycom, Inc. (Nasda

q: PLCM), the global leader in open standards-based unified communications (UC), today announced that the Belfast Health and Social Care Trust is using Polycom RealPresence video and voice solutions, Microsoft Lync, and BT networking technology to unify video, voice and data communications for 17,000 staff at Belfast Health and Social Care Trust. One of the largest trusts in the U.K. with annual spending of about £1bn (£3m every day), the Trust is relying on the solution to enhance the integrated health and social care services it provides to 340,000 people in Belfast and Northern Ireland through a network of six organisations, from over 100 physical locations.
The solution consists of a next-generation BT network which uses Polycom and Microsoft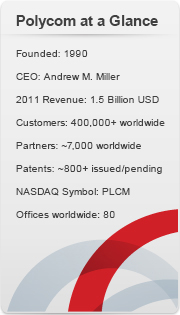 solutions to provide a standards-based, interoperable unified communications platform. This platform gives over 10,000 healthcare workers access to Microsoft Lync so they can communicate via video, voice, instant messaging, and presence. Polycom was selected to provide video and audio communications solutions because of Polycom's relationship with Microsoft and interoperability with Microsoft Lync (some solutions pending qualification). In addition, the Trust has approximately 400 Polycom RealPresence Desktop video collaboration systems rolled out to deliver care closer to where it's needed, and an additional 20 large video collaboration meeting room facilities. The Trust also has 5,000 Polycom® CX600 IP phones and Polycom SpectraLink® 8400 Wireless Telephones to improve communication and responsiveness for on-site mobile staff across over 100 locations.
"With the Polycom, Microsoft and BT solution, we are seeing people using video collaboration in ways that we hadn't originally forecast. People are having more ad hoc video calls than we thought they would, because it's easy to do, and video speeds up our decision making. Before you would have had to wait maybe a week just to get people in their diary to attend a meeting," said Paul Duffy, Co-Director IT and Telecommunications at Belfast Health and Social Care Trust. "Within healthcare, information needs to be passed quickly and accurately through the system in order to get a more immediate response, which in turn means we can see more people—another added benefit we are seeing to the implementation of our new solution."
Key Benefits:
Saving time, Helping Save Lives – Making decisions quickly and efficiently in healthcare is critical and using video collaboration solutions has resulted in an increase in the speed of decision making.
Mobile workforce – Wireless telephony solution in 100+ locations improve productivity and responsiveness for on-site mobile staff as well as delivering operational cost savings.
Reduction in operational costs – Ability to deliver valuable services within budget and reduce operational costs associated with running audio, video and data across the same network.
About the Trust
Belfast Health and Social Care Trust deliver integrated health and social care to 340,000 people in Belfast and part of the Borough of Castlereagh. It also provides specialist services to all of Northern Ireland. With an annual budget of approximately £1bn (spending about £3m each day) and a staff of 20,000, it is one of the largest Trusts in the United Kingdom.