PT-VW430 series delivers high brightness and eco performance in a compact body
Amsterdam, Netherlands, 31 Jan, 2012 – Panasonic Europe today announced four new portable projectors, the PT-VW430 series. This series provides high brightness in a compact body for portable convenience without compromising on image quality. An additional benefit of this new projector range also includes ceiling mounted use in compact spaces.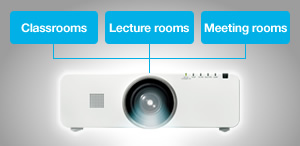 The PT-VW430 series offers brightness of 5,000 lumens (PT-VX500/PT-VX505N) and high contrast ratio of 3,000:1, high-output 280W lamps, along with a built-in cooling system all within a portable compact body. This range is also very low maintenance with a lamp replacement cycle of up to 4,000 hours and an air filter replacement cycle of up to 4,000 hours.  Additionally noise output is extremely low at 29-dB, ensuring that presentations and classes are not disturbed.
Since the compact size allows the projectors to be used in various different locations, this range offers a Daylight View function, which adjusts the image according to the ambient light condition, ensuring that glare does not impair the image quality.
"We are thrilled to be launching this new range of projectors at ISE 2012,". said Hartmut Kulessa, Marketing Manager for Projectors at Panasonic Europe. "This new series combines high brightness and performance with portability and is a testament to the evolution of our AV technology, demonstrating that price sensitive equipment does not necessitate a compromise on quality of image or brightness".
In addition to offering low maintenance and superb performance, the PT-VW430 series is also designed to reduce overall environmental impact. When in Standby mode, power consumption is low at 0.5W, reducing running costs and carbon emissions. The PT-VW430 series prides itself on its ecologically conscious design and complies with both the EU directive on Restriction of Hazardous Substances (RoHS) and on Energy Using Products (EuP) Lot6.
The PT-VW430 series is ideal for portable and ceiling-mounted applications. A flexible zoom function allows the projector to be setup in many environments. A 1.6x zoom lens enables the PT-VW430 series to project in both short and long distances and vertical lens shift enhances ease of installation. Portability is further supported by wireless projection for PT-VW435N and PT-VX505N models. The enhanced Wireless Manager ME 6.0 freeware (expected availability from July 2012) is a faster and simpler wireless solution that works in conjunction with the PT-VW435N and PT-VX505N. The wireless ready models are also compatible with Panasonic's Wireless Projector for iOS, a free downloadable wireless projection application available on iPhone, iPod touch, and iPad.
Easy remote monitoring can be controlled over a wired LAN system. Using the web browser monitoring system,  the projector can be set to send an email alert when the lamp needs replacing and it can also send notification for overall projector status. Multi Projector Monitoring and Control Software are also available for controlling multiple Panasonic projectors from a single PC. Additionally, the projector range is compatible with PJLink™ and Crestron's Roomview™.
The PT-VW430 series guarantees easy set up by using the Auto Input Signal Search function and the Real time Keystone function. The Auto Input Signal Search function automatically detects and selects the input channel based on the signal. These portable projectors feature 10W speakers and a microphone input terminal that enables audio playback directly from the projector helping to make presentations more dynamic and memorable.
Other useful features include HDMI input terminal, RGB2 input terminal, direct power off, and Logo Transfer Application for customisation.
The PT-VW430 and PT-VX500 will be available from May 2012.
The PT-VW435N and PT-VX505N will be available from July 2012.