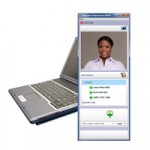 The Polycom® Telepresence m100 business-class video conferencing software application delivers HD-quality audio, video, and content sharing to users of Microsoft® Windows® OS. Its intuitive and simplified interface lets users search directories for colleagues or friends and click a name to call, discuss projects, and share virtually anything from their desktop with remote participants and teams.
Unlike competitive systems, the Polycom® Telepresence m100 solution utilizes industry-standard protocols, allowing seamless connection to the millions of room and immersive telepresence systems online worldwide. Users can enjoy person-to-person calling or even multiparty conversations through a video bridge. Within minutes, the simple software can be downloaded and installed. Download the Polycom Telepresence m100 FREE trial.
Need an enterprise-grade, highly scalable and manageable desktop solution? Let us introduce you to the Polycom Converged Management Application™ (Polycom CMA™) Desktop solution, a full-featured video client capable of receiving HD video, audio, and content. Check out the Polycom CMA and Polycom CMA Desktop solutions.
Note: The Telepresence m100 solution is currently available in English only. Contact your local Polycom representative for detailed information.
Benefits
Install wizard makes set-up simple and easy
Ideal for remote workers or remote sites to communicate visually within organizational offices
Easily share content with colleagues around the world
Features
High fidelity audio over Internet connections through Polycom Constant Clarity™ technology
Up to HD resolution through standards-based H-264 video
Users can share their PC desktops using Polycom People+Content™ technology
An excellent complement to existing room systems running H.323 and SIP protocols