Effective group collaboration has never been more important in business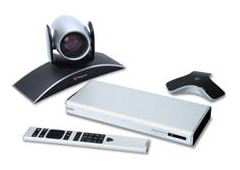 Geographically dispersed teams need to get more done with fewer resources making video collaboration a critical tool for improving meeting productivity and breaking communication down distance barriers.
The Polycom RealPresence Group Series (300, 500 and 700) brings a new standard of efficiency and productivity to your company's room-based group collaboration by combining great video experiences with a new breakthrough simple interface that's easy to use from day one. And with Polycom's commitment to open standards, your system will interoperate with millions of other devices across the globe without costing you a small fortune.
The Polycom RealPresence Group Series delivers:

Breakthrough User Experiences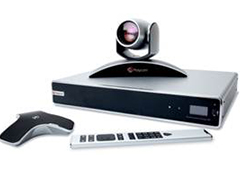 A breakthrough user experience (Polycom UX™) that's easy for even first time users, with no need for specialized training.
Patent-pending Polycom SmartPairing™ technology* makes it simple to use your own Apple iPad tablet to start and manage video calls.
Full 1080p60 high definition video delivering the industry's most lifelike HD image quality.
Content sharing at up to 1080p60, plus full motion HD people at the same time, helping to eliminate compromises when sharing across distances.
Polycom Constant Clarity™, a set of industry-leading audio technology that dramatically improves the sense of realism, resulting in more productive meetings.
The Industry' Broadest Interoperability
Being fully standards-based, you can call millions of other standard
s-based video systems in use today.
Native interoperability with leading unified communications (UC) platforms, without expensive and complex gateways, extending the benefits of your UC platform investment while simplifying the experience for users.
Polycom's unique interoperable SVC architecture* providing video calling between both existing video systems and new SVC solutions.
Lowest total Cost of Ownership
H.264 High Profile technology that now extends to 1080p60 experiences for whole new levels of realism at up to 50 percent less bandwidth.
Breakthrough user interface speeding up the adoption of video communications, and reduces support costs for IT administrators
Three models to choose from RealPresence Group 300, 500 or 700, providing just the right features and functions for every environment and budget.
Support for previous investments in Polycom technology, including select cameras, microphones, and UC innovations such as Polycom EagleEye Director and Polycom Touch Control.