Interactive Ultra-Short-Throw
CSS Audio Visual, in partnership with Epson Ireland, recently installed over 50 Epson Super Close Interactive Projectors in two local schools. Both Manor House School and St Pauls College, Raheny, both chose the Epson EB 455wi Interactive Projector for their classrooms.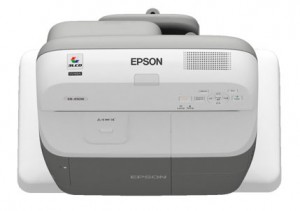 Schools and businesses can affordably tap into interactive working and learning with this widescreen, 2,500-lumen, ultra-short-throw projector.
Make any surface interactive – including a tabletop – without the need for a screen or whiteboard. This complete package comes with everything that's needed to create a collaborative learning or working experience, including projector, digital pen and wall-mount.
Large, fully interactive projection
Achieve an image size of up to 97 inches, fully interactive right to the corners. Notes or additions can be saved with the digital pen, giving complete control of the projection area. Annotate without casting a shadow thanks to the ultra-short-throw design, achieving a 70-inch projected image from just 16cm.
Desktop collaboration
Mount the projector vertically, allowing collaborative work on documents or multimedia files on the tabletop to make group projects and classroom activities more engaging.
Easy to use
Always easy to use, the projector is quick to set up and shut down with USB 'plug-and-play' functionality plus quick start and instant off features, which avoid wasting valuable lesson time.
High quality images
No matter what the interactive projector is used for, Epson's 3LCD technology ensures high-quality images with its equally high White and Colour Light Output for vivid, natural colours and deep blacks, even in dayligh
.