You may well wonder what the digital television switchover has to do with your use of wireless microphones in the future.
If you own wireless microphones that operate in the 470 – 862 MHz band the switchover could have a significant impact on your ability to continue using your equipment. (ComReg Document10/68)
These microphones share frequencies with those used to broadcast Analogue Terrestrial Television throughout Ireland. But as Ireland switches analogue television off and digital television on, fewer of these frequencies will be needed to broadcast television. Comreg will be auctioning the frequencies that are no longer required to new users. Fewer frequencies used for television broadcasting will therefore result in fewer frequencies for wireless microphones.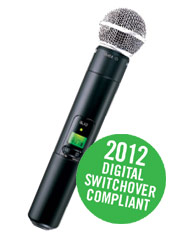 Advice when buying new equipment
Under current proposals the following frequencies will no longer be available after the switchover:
• 550 – 606 MHz (TV channels 31 – 37)
• 790 – 862 MHz (TV channels 61 – 69)
We would therefore advise users against buying any new equipment that use these frequencies.
How do I find out what frequencies my microphones operate on?
You can usually find the frequency your microphone operates on by looking on the label or display on your receiver.
From Channel 69 to Channel 38

The New Home of Wireless Mic's and in-Ear Monitors.
The good news is that wireless equipment has been assigned a new home called channel 38 (606-614MHz).
Channel 38 is available for use now and beyond 2012 when the Digital Switchover is expected to be completed.
The de-regulated licence-free spectrum 863-865MHz remains untouched by DSO. If you are currently operating in this area of spectrum, you are free to carry on using it now and beyond the 2012 DSO.
TV channel 38 (606-614MHz) has been officially announced by Comreg as the replacement for TV channel 69 (854-862MHz).
Contact us today and we'll be happy to assist you further with any questions that you might have.